Lieutenant Governor of Ladakh Brigadier (Dr.) B.D. Mishra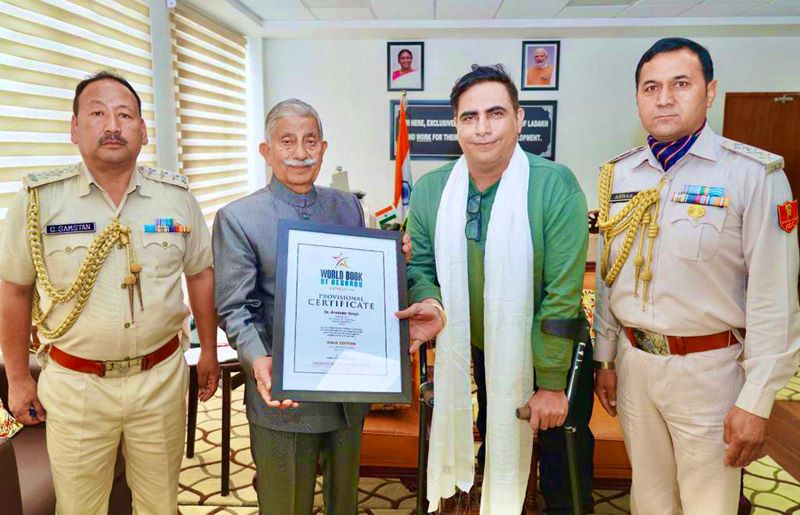 Lieutenant Governor of Ladakh Brigadier (Dr.) B.D. Mishra bestows the certificate of World Book of Records to Valorous Divyang Dr. Arvinder Singh
For driving the challenging terrain of Khardungla Pass, the highest motorable peak of the world by ATV being 80 percent disabled person
Leh : World Book of Records has announced that Valorous Divyang Dr. Arvinder Singh, CMD & CEO, Arth Group of Companies, Udaipur, Rajasthan, India having 80 percent of deformity has been adjudicated by the World Book of Records for driving the challenging terrain of Khardungla Pass, the highest motorable peak of the world by ATV being 80 percent disabled person on 13 July 2023.
The certificate was bestowed to Dr. Arvinder Singh by Brigadier (Dr.) B.D. Mishra, Lieutenant Governor of Ladakh at the Raj Niwas of Leh along with PD Nitya, IPS, SSP, Dr. Nurzin Angmo, Chief Medical Officer and Executive councilor Ghulam Mehndi who appreciated Dr. Arvind Singh.
Significantly, Khardung Pass is a mountain pass in the Leh district of the Indian union territory of Ladakh. The pass is on the Ladakh Range, north of Leh, and connects the Indus river valley and the Shyok river valley. It also forms the gateway to the Nubra valley, beyond which lies the Siachen Glacier. A motorable road through the pass was built in 1976, and opened to public motor vehicles in 1988. Maintained by the Border Roads Organisation, the pass is strategically important to India as it is used to carry supplies to the Siachen Glacier. The road is one of the world's highest motorable roads. The elevation of Khardung La is 5,359 m (17,582 ft). Local summit signs and dozens of stores selling shirts in Leh incorrectly claim its elevation to be in the vicinity of 5,602 m (18,379 ft) and that it is the world's highest motorable pass.