Mahant Shri Nareshpuri Ji Maharaj of Mehandipur  Balaji Trust (Rajasthan)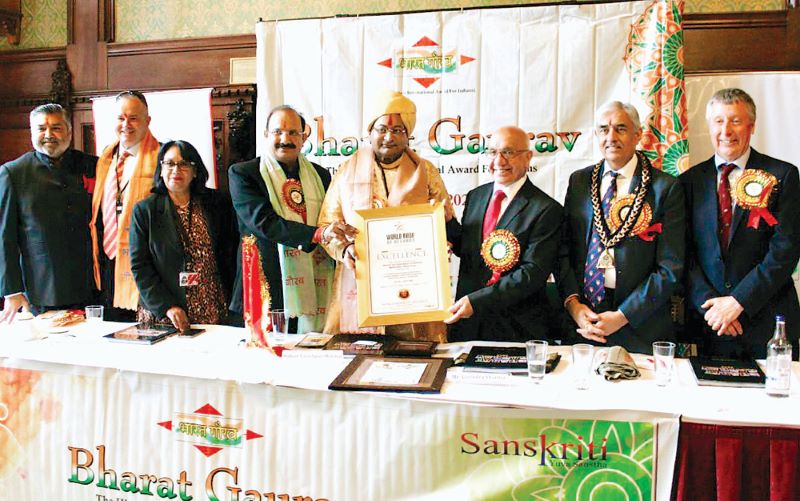 Mahant Shri Nareshpuri Ji Maharaj of Mehandipur  Balaji Trust (Rajasthan) India gets felicitated by Certificate of Excellence of  World Book of Records
London : Mahant Shri Nareshpuri Ji Maharaj of Mehandipur Balaji Trust (Rajasthan) India was felicitated by Certificate of Excellence of World Book of Records at the House of Commons
For Chanting Hanuman Chalisa for the first time in the British Parliament (London) United Kingdom along with 100 devotees during Bharat Gaurav Awards.
In this ceremony 31 prominent personalities were also felicitated for their contribution to society. On this occasion, Baroness Sandip Verma,  Member of the House of Lords, Councillor Sunil Chopra, the Mayor of Southwark, Chairman House of Lords, Chairman of European External Affairs Committee,  Ministry of Energy,  Climate Development UK, and others graced the award ceremony. 
Significantly, The Hanuman Chalisa describes the endless glories, valour and greatness of the best manager and the most successful person the world has ever known  Lord Hanuman. The sacred verses of the Hanuman Chalisa contain the secrets to success in life that bestow intelligence, strength and virtue to all those who contemplate and meditate upon it. 
On being felicitated by Certificate of Excellence, Mahant Shri Nareshpuri Ji Maharaj was congratulated by members of the Central Working Committee of World Book of Records. #AlmaTimes #WBR