Rustamji Armed Police Training College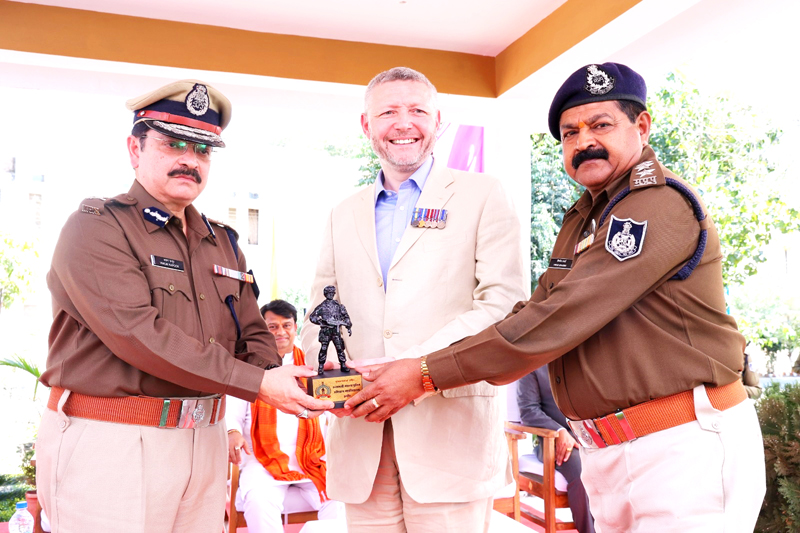 Simon Noel Ovens DL (HM The King Charles III Representative) of United Kingdom gets felicitated by Rustamji Armed Police Training College
Barrister Santosh Shukla has announced that Mr. Simon Noel Ovens DL (HM The King Charles III Representative), Deputy Lieutenant for the London Borough of Harrow, United Kingdom) gets felicitated
by Madhya Pradesh Police for his outstanding contribution for betterment of society through dedicated police services. The guest of honour was bestowed to Mr. Simon N. Ovens DL and His Holiness Rajrajeshwar Guruji, Spiritual Leader and Founder, International Siddhashram Shakti Center, Harrow (London) United Kingdom by Dr. Varun Kapoor, IPS, Additional Director General of Police (Rustamji Armed Police Training College) along with dignitaries.
Significantly, he completed 35 years in the Metropolitan Police, over 30 years of which have been in supervisory and Leadership ranks.
He has been Borough Commander of Merton, Westminster and Harrow, responsible for a wide range of operational, crime, public order and ceremonial work of particular note has been his extensive experience in dealing with royal events. He is chair of the Metropolitan and City Police Superintendents Association Branch, involved in many complex professional negotiations, He is chair of the board of trustees of both the Metropolitan and City Police Orphans Fund and the Metropolitan Police Benevolent Fund. He worked for six weeks in India training senior officers at the Indian Police Staff College.
He has been highly experienced in strategic organisational management and risk management. His current role is to run the Roads and Transport Policing Command for London. A command of over 2,200 officers. In 2017 He was appointed a Deputy Lieutenant for Greater London and since February 2018 has been HM The Queen's representative DL for the London Borough of Harrow. He holds B.Sc. (Hons) and M.Sc. degrees. He is a Fellow of the Chartered Management Institute. He has also been decorated twice by The Royal Humane Society for gallantry in saving life. On being felicitated by Madhya Pradesh Police, Mr. Simon Noel Ovens DL (HM The King Charles III Representative) was congratulated by police officers of Rustamji Armed Police Training College and other dignitaries from international scenario. #WBR #AlmaTimes