World Book of Records Awards Celebrate International Personalities in Glittering Indore Ceremony Along with Other Record Holders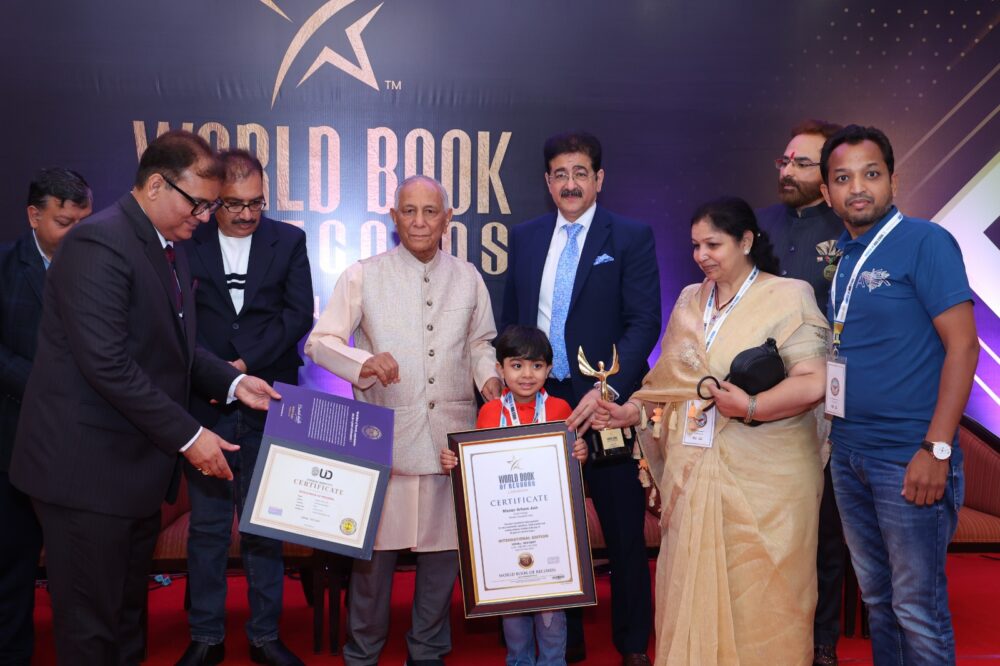 Indore, Central India – On June 24th, the World Book of Records hosted a prestigious award function at the City Club in Indore, honoring international personalities for their remarkable achievements. The event saw the presence of distinguished guests and renowned figures, making it a truly grand affair.
The ceremony was graced by Justice V.S. Kokje, Former Governor of Himachal Pradesh, who served as the Chief Guest. Mr. Santosh Shukla, President & CEO of the World Book of Records, UK, presided over the event, adding his expertise and guidance to the proceedings. Special guests included Chancellor Dr. Sandeep Marwah, Founder of Noida Film City and President of Marwah Studios in New Delhi, and Dr. Sandeep Mittal, IPS, Additional Director General of Police, Coastal Security Group, Tamil Nadu Police.
A notable highlight of the evening was the felicitation of Justice V.S. Kokje, who was honored with the esteemed 'Bharat Kirtimaan Alankaran 2023' award.
The World Book of Records recognized Justice Kokje for his significant contributions and achievements throughout his distinguished career. The ceremony also witnessed the presentation of record certificates and trophies to deserving record holders, as well as the recognition of individuals who have made outstanding contributions to society.
Among the guests in attendance were Prof. (Dr.) Rajeev Sharma;an educationist, Dr. Jitendra Matlani from the UAE, Mr. Usman Khan from Mumbai, Dr. Bharat Sharma from the Ministry of Culture, Government of India, Shri Prakash Sharma from Seattle, USA, and Mr. Amit Sharma from Sydney, Australia.
Additionally, the event showcased the honoring of 20 officers, including Deputy Collectors and DSPs selected in the Madhya Pradesh Public Service Commission, by the esteemed guests. This gesture aimed to acknowledge their hard work and dedication in their respective fields.
The World Book of Records, known for its commitment to recognizing outstanding individuals, also introduced the Lifetime Achievement Awards to commemorate those who have made exceptional contributions to society. This gesture serves as an inspiration for future generations to strive for excellence.
Alma Today and WBR News were the official media associates of this grand award function, ensuring extensive coverage and spreading awareness about the achievements celebrated during the ceremony. Dr. Suchita Shukla, in her role as the event organizer, expressed her gratitude and delivered the vote of thanks, acknowledging the collective efforts that made the ceremony a resounding success.
The World Book of Records Award function held in Indore stands as a testament to the incredible talent and dedication displayed by individuals from various fields. This recognition not only celebrates their accomplishments but also inspires others to aim for greatness and make a positive impact on society. #WBR #AlmaTimes